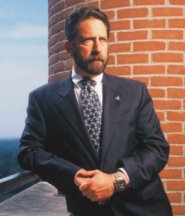 Fairfax solo practitioner David Kaufman has been selected to administer the popular "SoloSez" listserv hosted by the American Bar Association.
Founded in 1996, SoloSez is a national e-mail forum that allows solos and small firm attorneys to exchange ideas and referrals. "It's a very robust list," Kaufman said. He estimates that about 600 lawyers post regularly, with another 1,000 or 1,500 that post once or twice a year when they have a problem.
"There are 200 to 300 messages a day," Kaufman said. Topics include client selection, the handling of difficult clients, technology issues and referrals. It's not all business, though. According to Kaufman, lively discussions occur over issues such as the proper use of cast iron pots and how to respond to the "Tropic Thunder" movie.
"It's a way for solo and small firm attorneys to support each other," Kaufman said. He begins his year-long contract as listserv admin in September.
Kaufman practices business and commercial law in Virginia, Maryland and D.C. Fittingly, his Web site is www.businessbrawls.com.
By Peter Vieth